"Certain human-made organic chemicals present in the lakes biologically accumulate, or bio accumulate, in resident organisms. As phytoplankton are eaten by zooplankton and small fish, the toxic chemicals are further concentrated in the bodies of zooplankton and small fish. Bioaccumulation occurs at each step of the food chain, resulting in top predators, such as carp, amassing high concentrations of contaminants. This process of increasing concentration of contaminants through the food chain is known as bio magnification."
Or by actually going out to a lake, taking measurements like temperature or oxygen levels, looking at the organisms that inhabit the lake and mucking around in it for a while, before we throw such terminology at them?
Curiouscity Field Trips are fun-filled, hands on programs that are designed to tweak a child's imagination.
Estimating Wildlife Populations
A child once came to me and asked if there were really 259 Tigers in the Mudumalai forest during the last Tiger census. It really got us thinking about what it meant to tell people there were exactly 259 Tigers in a forest or list the following in Wikipedia : "Until 2000, the largest known ant supercolony was found…. in Hokkaido, Japan. The colony was estimated to contain 306 million worker ants and one million queen ants living in 45,000 nests interconnected by underground passages over an area of 2.7 km2 (670 acres)." How on earth do scientists come up with such numbers. This camp was designed to get children to learn about techniques in estimation – using the forest as a natural habitat. We estimated wildflower populations, water beetle populations, mammal populations, ant populations, amphibian populations and even took a stab at the number of stars in the night sky.
Dear All,I hope you've had plenty of stories about the trip.... and although I'm certain most of them relate to the tiger/panther stories and the camping out on the hill top... I do hope you got a dash of what we did in terms of the Biology too :)
Okay, first of all, to all those mothers/fathers who had let go for the first time... a big thank you. All the kids were fabulous... no fussing about anything and they all got along well and made each other feel comfortable (even if they didn't know anyone in the gang). They listened well, got along beautifully and were involved in everything from swimming, pulling out yucky creatures from the pond, tracking deer, and attempting to catch frogs, not to mention hauling all the camping stuff to and from the campsite :)
We arrived at Masanagudi at around 12pm. We settled into the dorms and went for a refreshing swim.... Ananya good as gold only put her feet in... and Karthik and Siddharth jumped in after a little persuasion from the others.

Had lunch at 1.30 and then went into a 2 hour workshop on Estimations.

We attempted to estimate the number of Lantana flowers in a 1000ft patch using two methods.... Took a break and told stories and hung out in the dorms till 4.30. After tea/juice break... we went on a Perimeter walk around the campus with Rohan (uncle :)) and he told us all about the trees. We spotted a herd of deer and attempted to do a count and a "Herd Recognition" Exercise. Also saw a band of Langur above them and tried to count them and recognize individuals.

We started a List of different birds and animals we saw on the walk. Came back and the kids played for a while and then we went to set the camera traps. After that Rohan showed us a slide show on the birds and animals found around the campus.... and video footage from the camera traps. Dinner and bed for a bunch of very tired puppies...


Woke up at 6am... the boys were up and ready by then... we girls needed our beauty sleep. Went out and found the deer herd again... this time we broke up into groups to herd them in one direction so we could do a Population Count.... The deer behaved beautifully and bounded by single file... and we managed to get a fairly good count again.

Spent the rest of the morning Bird Watching with Rohan.... and even saw a mongoose by the pool area.... some of the kids were getting pretty good at bird calls. Had a good breakfast.....mostly chocolate pancakes.... and then we all went in and showered, changed and packed light for the evening camp.

Came out and did an exercise on Capture-tag and Recapture.... starting with me chasing them around a field and Anil uncle grinning as he timed us. We then did a drag of the pond with a big net and attempted to capture and tag the Water-spiders and the Blue-eyed flies with nailpolish. A pretty creepy crawly exercise.

Spent more time looking at Termite and Ant colonies and attempting to count the individuals... one exercise with the toothpicks didn't work too well..... but they could take a look at this youtube video to get an idea of what was to be expected... it worked beautifully the last time I was there and tried the same.

We then had a researcher from the IISc campus.... give us a Talk about Animal Census with elephants and tigers... direct and indirect sampling... the value of animal poop, grid counts and line transects etc.... they got a fair amount of an idea... though the little ones definitely had enough by then.

Packed everyone into 2 vehicles and then buzzed all the way up the Ghats to Ooty and back down to Sholur village, where Rohan has a platform set up for camping overlooking the valley. The kids made two trips from the car to the site hauling all the gear.... sleeping bags to food to tents to the camp site. They helped each other out and I was really proud of them all and their spirit.

We pitched tents, tidied up the camp.... and then they were given the (impossible) task of Capturing Frogs.

We thrashed around the bushes and the streams... foot deep in muck trying to catch even one of the hundreds of frogs we could hear... but no luck. They came back empty handed. The idea was for them to understand that not all creatures can be caught easily.... and we have to often rely on Indirect Methods to count them. They racked their brains on how they could count them, till Isha popped up and said "we could count their noises". It was exactly what I was hoping they would figure out.... They went to wash up in the stream when we heard "screaming" and we couldn't tell if it was joy or terror. Anil ran to investigate... only to find that they actually managed to land a frog... and Anya was screaming in "something" and they all rushed in to put it in the bucket.... poor little frog.

Dinner was noodle soup (kid's favourite) and jacket potatoes (first time the kids ate burnt ashy skins dripping in butter and salt) and barbequed chicken. They were given the choice of sleeping in the tent or outside and a few wise ones opted for the tents.... Isha, Kavvya and Ananya crawled into one (Isha crawled back out to be with ma and pa).... Arjun, Avi and Karthik took another and the rest of us slept out... after Rohan told us some pretty stories on how to Recogize Animal Calls.... like a leopard sounding like someone snoring..... Anya spent her night huddled up wondering if it was a Leopard or Rohan uncle snoring next to her. It was windy and cold that night... but they stuck it out... despite the creaking, clacking and rustling all around.


Woke up at the crack of dawn and got a fire going... hot milk maid chai, bread, cheese, butter and eggs.... went down fast. Broke camp and hauled everything back to the cars... and headed back to Masinagudi. Had enough time to jump into the pool for a few races and a general wash up and then we loaded up the vans and headed back...... most of us fell asleep instantly. Ate our packed lunches, saw a movie and made great time back into town...! I think they were all fairly reluctant to be leaving each other.... :)

Thanks all.
Cheers
Shonali


---
Astronomy For Beginners
This Field Trip was done with kids from our Urban Schools along with children from the Rural Neelbagh School. The children from Bangalore paid for the trip, while the school hosted all of us and the event was done cost free for the children at the Rural School.
The aim was to get the children to learn not only about the night sky, but about outer space… with a focus on the stars in the night sky, how stars move, how they are born, how they die and so on. A second wonderful part of the trip was to introduce the children to kids who were first generation learners and whose enthusiasm to learn and share cannot be measured by any ordinary standards. I do believe that we made a huge impression on the children from the city schools, and the kids from the Rural School were just amazing – when thinking about them grasping a whole new topic for the first time ever.
12 of us (2 Educators, 2 pareents, and 8 kids) traveled to the Neelbagh Rural School by Tempo Traveler and arrived there before lunch. We had a walking tour of the school premises after which we all had lunch. Post lunch we had a 2 hour long presentation by Utpal Uncle on the basics about Astronomy – stars, constellations, supernovas, galaxies, nebulas, the Northern star and so much more….. and their science teacher did a great translation into Kannada.

12 of us (2 Educators, 2 pareents, and 8 kids) traveled to the Neelbagh Rural School by Tempo Traveler and arrived there before lunch. We had a walking tour of the school premises after which we all had lunch. Post lunch we had a 2 hour long presentation by Utpal Uncle on the basics about Astronomy – stars, constellations, supernovas, galaxies, nebulas, the Northern star and so much more….. and their science teacher did a great translation into Kannada.

We then broke for tea and the children all spent some time getting to know each other and looking around the dormitories and walking around campus together. After tea, the children were all shown their dormitories and we met just as the sun was setting on the roof of one of the buildings. Here we set up the telescopes and handed out the binoculars and Utpal gave us an idea of what we were going to see in the night sky. We were all given the task of spotting the first star in the night sky, and there was great excitement when it happened. We also spotted Venus and looked at a few of the constellations like Cygnus and Aquila, after which we went for dinner.

Post dinner, as the sky darkened, we spent more time constellations like orions belt, found the Great Orion Nebula (the only nebula in our galaxy where stars are born. We all then headed to bed and woke up at 4.30am to try and find the Pole star and understand how they moved across the horizon. We kept everyone warm with lovely hot chocolate and then went back to bed for a couple of hours.

Woke up and had breakfast – after which it was fond farewells for all the children. I do believe that our kids from the city got a huge amount out of this trip, including spending quality time with children of a less fortunate background who taught them the delights of ordinary things and the enthusiasm of learning about something new.

Headed back to Bangalore after breakfast and a wonderful night of learning something fascinating and new.

Thank you to all those who participated and thank you to the children of the Neelbagh School for making this experience so special.


---
Galapagos Field Trip
Students (open to students of grades 8 to 12) will examine why these islands are so special – a living example of Evolution in Progress from which Darwin came up with his theory of Natural Selection. Why these islands have the perfect set of conditions to allow Evolution to happen so rapidly creating many Endemic Species (those seen nowhere else on Earth). What it takes to conserve such a delicate landscape and the role and affect of humans therein. History, Geology, Ecology, Evolution, and the Economics and impact of Eco Tourism will also be a large part of the learning on this trip this trip.
We will be working with IOI (Intercultural Outreach Initiative) in America and their counterparts in the Galapagos. Students will be expected to stay with local families on the island of Isabella and work with the science Eco-conservation program every day.
This will give the children great exposure to a different culture through the local people, communicating in Spanish, eating the local cuisine and traveling independently.
Team Lead :
This expedition will be led by Dr. Shonali Chinniah.
She received her doctorate degree in Marine Ecology from Cornell University in 1997, and has and has explored the depths of the ocean off George's Bank in the Atlantic in a "deep sea submersible" as part of her Ph.d research. She has a wide and varied range of teaching experience, from conducting educational tours at the New Jersey Aquarium, to teaching Undergraduate courses in American Universities and Science ICSE Syllabus for Pre University classes in India. For the past ten years she has been involved in creating and teaching practical science modules for children and has been conducting science workshops in and around Bangalore through her company CURIOUSCITY (www.curiouscity.org). There will also be experts in the field from the Galapagos islands who know the local flora and fauna who will be with us during our field trips.
For every 10 students we would have one adult escort.
Cost :
This cost of this 10 day trip – is just $2500 plus Airfare (approximately $1500) and cost of visas to Equador and student travel insurance (or the Indian rupee equivalent at the time of booking). The total cost should not exceed Rs. 3,00,000/- (All inclusive)
Included
This all inclusive trip covers food and board, our educators, the science program, park fees, travel between the islands, boat fees, and snorkeling.
Each day will include a morning field trip with snorkeling, kayaking, hiking or cycling and an afternoon class.
Description of one of the day excursions DAY 7 – Morning – Bartalome Volcano
Leaving from Santa Cruz, you will travel to the east side of Santiago Island to one of the most visited and well known sites in the Galapagos, Bartolomé island. Bartolomé is home to a distinctive and recognizable site of the archipelago: Pinnacle Rock. Pinnacle Rock, a volcanic cone, was formed when magma was expelled from an underwater volcano. You will first walk along the lava fields on the island. After you will have the chance to snorkel along the beach in front of Pinnacle rock. There's a good chance you will see sea turtles, penguins, sea lions and a variety of fish. After, you will hike to the top of an incredible view point where you will overlook the famous Pinnacle rock.
DAY 1 and 2 –
Travel from India to Ecuador / pick up – overnight in Quito
DAY 3
Morning - Fly to Galapagos, boat to Isabella Island /
Afternoon – Orientation of living arrangements / Visit the Giant Tortoise Breeding Center.
DAY 4 –
Morning -Orientation – Introduction to the history of the Galapagos
- Exercises on Estimating Wildlife Populations.
– discussion on projects and breakup into Groups
Afternoon – Cycling Excursion - Isabella Island- Wall of Tears
DAY 5 –
Morning - Santa Cruz – North Seymour Island – Explore bird life and Snorkling
Afternoon – Indroduction to the Principles of Conservation
- Continue project work
DAY 6 –
Morning - Isabella island - Tintoreas – Kayak through the mangrove lined lava rocks and past the old fishing boats.
Afternoon – Introduction to the Ecology and Evolution of the islands
- Continue with project work
DAY 7 –
Morning - Bartalome Island Volcano and snorkeling
Afternoon – Discussion on Darwin and his theory of Evolution
- Continue project work
DAY 8 –
Morning – Isabella Islands – Cueva De Sucre - Exploring the tunnels
– exploring farm lands and their impact on the islands.
Afternoon – Exploring conservation in other parts of the world Continue with project work
DAY 9 –
Morning – Session wrap up Discussion
Afternoon – Fly to Quito
DAY /10/11 –
Fly from Quito to India
Estimating Wildlife Populations Astronomy for Beginners Galapagos Field Trip
Lecture Demonstrations
We have created a number of one hour student lectures on various topics that are designed to bring a WOW factor into education. Based off some of the amazing lectures by Richard Feynman, with a combination of videos, PPT's and demonstrations, we bring topics to life that are both inside and outside the range of topics students from grades 7 to 10 study in the curriculum.
Beyond the Curriculum
We have created a number of student lectures that allow children to dream beyond the bounds of their syllabus. Some examples of our lectures are:
Traveling with Einstein near the speed of light (9th, 10th)
Ten experiments of the 20th century that shook the world (9th, 10th)
Birth and death of a star (9th, 10th)
A glimpse into the world of biological research - ctenophores and their place in the oceans (7th, 8th, 9th and 10th)
The realities of Global Warming (8th, 9th and 10th).
---
Within Curriculum
We have also created a number of student lectures that allow children to understand topics in their syllabus with Richard Feynman-like demonstrations that make these topics come alive. Some examples of our lectures are:
Electricity and Magnets (8th and 9th)
Light and Mirrors (8th to 10th)
Genetics and Life (9th and 10th)
Similar Triangles (8th and 9th)
The Fabulous Fibonaccis. (7th to 10th)
We have conducted two of our Lecture Demonstrations at Aditi Mallya International School as our launch and hope to do the same at several other schools going forward.
Beyond the Curriculum Within Curriculum
Water Works
We believe that every child needs to explore and discover the world around them: therefore we take them out of the four walls of the classrooms and let them experience science first hand. While one cannot get away from a syllabus, which has also its own place in learning, what we can do is to supplement it by offering kids the possibility of exploration and experimentation on their own.
With this in mind we have created a Science Event called
Water Works Science Fair
, in which we use materials that children can easily access at home so they can go back and experiment and try things out. Topics covered range from
properties of water
(melting, boiling and freezing points),
cohesion and capillary action, water weight and water pressure, water conductivity, non-Newtonian fluids, Bernoulli's principle and the Coanda effect, the history of water use, water in interstellar space, tornadoes and whirlpools, animal distribution in the oceans and estuaries, effect of water pressure on animals,
and much much more.
This fair was modelled on Science Interactive Centres around the world with hands-on activities at its heart, with the aim of getting children to ask questions – "why, when and how does this happen?" We at Curiouscity believe that science is not a field of rote facts and dull theory - it is one of creativity, always beginning with a question. And there is no doubt that this fair will get the children to ask questions and spark their curiosity in subjects they will encounter now or later, in their classrooms and beyond.
We have been conducting our
Water Works Science Fair
at schools in and around Bangalore and it has been universally well received. We have recently conducted our day long Science fair at The Valley School and Head Start Educational Academy. Bangalore International School, Lawrence School HSR, Inventure Academy Bangalore, Sujaya School Bangalore, Citizen English School Bangalore and Shishu Mandir Bangalore have also participated in this event.
No matter how well we sell an idea, your best gauge of this event would really be from the Feedback we have received from both the students and teachers alike.
Feedback
---
Electric Universe
Given the success of our Water Works Science Fair, we are now developing a new event called The Electric Universe, which should be launched early in 2019.
Topics covered range from
what is an electron, static electricity, dynamic electricity, magnets, electromagnetism, generating electricity, and the power of the neuron, to the history of electricity, lightning in outer space, magnetism and migration,
and so much more.
Teacher Training Workshops
We at Curiouscity have been working with children since 2008, doing workshops where we teach kids about the basics behind science – methods of experimentation, observations, and analysing data. We do this in a fun filled, challenging and team based environment, where we take topics of science and work with the children to explore concepts, ask questions and work out methods to answer them.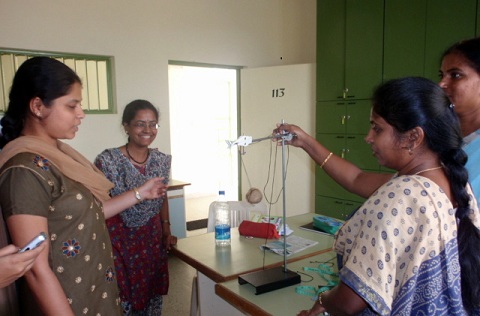 While one cannot get away from syllabus based learning in today's schools, what we can do is supplement the learning by offering kids the possibility of exploration and experimentation on their own.
The idea behind this teacher training workshop, is not to reinvent the wheel in terms of the syllabus, but how to pull out modules within a syllabus and change things around to make the children discover a concept rather than be taught the same – and to expose teachers to the value of such "discovery-based learning".
We have many methods of doing this, from student teaching, to challenge setting, to negative challenges, creating analogies that work – all of which can be used to create an environment that encourages children to think, and ask questions. A child asking a question is a child who is interested. How we address these questions is how we keep the child interested.
This program has been designed and conducted by highly qualified scientists and educators with extensive research and teaching experience.
Feedback