Curiouscity's field trips are typically "a fun filled, hands-on program which is designed to tweak a child's curiosity."
Would a child rather learn about contaminants of water by reading the following passage?
"Certain human-made organic chemicals present in the lakes biologically accumulate, or bio accumulate, in resident organisms. As phytoplankton are eaten by zooplankton and small fish, the toxic chemicals are further concentrated in the bodies of zooplankton and small fish. Bioaccumulation occurs at each step of the food chain, resulting in top predators, such as carp, amassing high concentrations of contaminants. This process of increasing concentration of contaminants through the food chain is known as bio magnification."
Or by actually going out to a lake, taking measurements, looking at the organisms that inhabit the lake and mucking around in it for a while, before we throw such terminology at them?
We invite you to join us on one of our field trips..... And you'll see how these really make a difference in your children's understanding.
About the Recent Bio Trip to Masinagudi Camp
This is what Priya had to say about the trip to Masinagudi
ABOUT THE RECENT BIO TRIP TO MASNAGUDI CAMP
---
Dear All,
First of all, let me thank you all for being on time in the morning on Friday.... I really appreciated the fact that you were all there on the dot (despite the early hour).  My apologies for not sending out a couple of sms's during the trip... between the bad signal and my hands being full with 10 energetic kids... I have to admit it slipped my mind :)  Next time I'll work it into my schedule.
I hope you've had plenty of stories about the trip.... and although I'm certain most of them relate to the tiger/panther stories and the camping out on the hill top... I do hope you got a dash of what we did in terms of the Biology too :)
 
Okay, first of all, to all those mothers/fathers who had let go for the first time... a big thank you.  All the kids were fabulous... no fussing about anything and they all got along well and made each other feel comfortable (even if they didn't know anyone in the gang). They listened well, got along beautifully and were involved in everything from swimming, pulling out yucky creatures from the pond, tracking deer, and attempting to catch frogs, not to mention hauling all the camping stuff to and from the campsite :)  
Just to give you an overview of what we did...
Day 1 
We arrived at around 12pm
Settled into the dorms and went for a refreshing swim.... Ananya good as gold only put her feet in... and Karthik and Siddharth jumped in after a little persuasion from the others.
Had lunch at 1.30 and then went into a 2 hour workshop on how to do an estimation.
We attempted to estimate the number of lantana flowers in a 1000ft patch using two methods....
Took a break and told stories and hung out in the dorms till 4.30.
After tea/juice break... we went on a perimeter walk around the campus with Rohan (uncle :)) and he told us all about the trees.  We spotted a herd of deer and attempted to do a count and a "herd recognition" exercise.  Also saw a band of Langur above them and tried to count them and recognize individuals.
We started a list of different birds and animals going.
Came back and the kids played for a while and then we went to set the camera traps.
After that Rohan showed us a slide show on the birds and animals found around the campus.... and video footage from the camera traps.
Dinner and bed for a bunch of very tired puppies... 
Day 2
Woke up at 6am... the boys were up and ready by then... we girls needed our beauty sleep.
Went out and found the deer herd again... this time we broke up into groups to herd them in one direction so we could do a count.... The deer behaved beautifully and bounded by single file... and we managed to get a fairly good count again.
Spent the rest of the morning bird watching with Rohan.... and even saw a mongoose by the pool area.... some of the kids were getting pretty good at bird calls.
Had a good breakfast.....mostly chocolate pancakes.... and then we all went in and showered, changed and packed light for the evening camp.
 
Came out and did an exercise on capture-tag and recapture.... starting with me chasing them around a field and Anil uncle grinning as he timed us.  We then did a drag of the pond with a big net and attempted to capture and tag the water spiders and the blue eyed flies with nailpolish.  A pretty creepy crawly exercise.
Spent more time looking at termite and ant colonies and attempting to count the individuals... one exercise with the toothpicks didn't work too well..... but they could take a look at this youtube video to get an idea of what was to be expected... it worked beautifully the last time I was there and tried the same.
 
We then had a researcher from the IISc campus.... give us a talk about animal census with elephants and tigers... direct and indirect sampling... the value of animal poop, grid counts and line transects etc.... they got a fair amount of an idea... though the little ones definitely had enough by then.
 
Packed everyone into 2 vehicles and then buzzed all the way up the Ghats to Ooty and back down to Sholur village, where Rohan has a platform set up for camping overlooking the valley.  The kids made two trips from the car to the site hauling all the gear.... sleeping bags to food to tents to the camp site.  They helped each other out and I was really proud of them all and their spirit.
We pitched tents, tidied up the camp.... and then they were given the (impossible) task of capturing frogs. 
We thrashed around the bushes and the streams... foot deep in muck trying to catch even one of the hundreds of frogs we could hear... but no luck. They came back empty handed.
The idea was for them to understand that not all creatures can be caught easily.... and we have to often rely on indirect methods to count them.  They racked their brains on how they could count them, till Isha popped up and said "we could count their noises".  It was exactly what I was hoping they would figure out.... They went to wash up in the stream when we heard "screaming" and we couldn't tell if it was joy or terror.  Anil ran to investigate... only to find that they actually managed to land a frog... and Anya was screaming in "something" and they all rushed in to put it in the bucket.... poor little frog.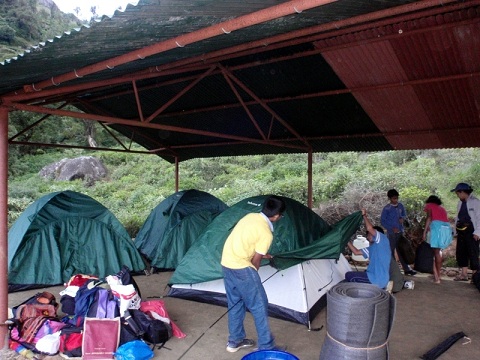 Dinner was noodle soup (kid's favourite) and jacket potatoes (first time the kids ate burnt ashy skins dripping in butter and salt) and barbequed chicken.  They were given the choice of sleeping in the tent or outside and a few wise ones opted for the tents.... Isha, Kavvya and Ananya crawled into one (Isha crawled back out to be with ma and pa).... Arjun, Avi and Karthik took another and the rest of us slept out... after Rohan told us some pretty stories on how to recogize animal calls.... like a leopard sounding like someone snoring..... Anya spent her night huddled up wondering if it was a Leopard or Rohan uncle snoring next to her.  It was windy and cold that night... but they stuck it out... despite the creaking, clacking and rustling all around.  
 
Day 3
Woke up at the crack of dawn and got a fire going... hot milk maid chai, bread, cheese, butter and eggs.... went down fast.  Broke camp and hauled everything back to the cars... and headed back to Masnagudi.  Had enough time to jump into the pool for a few races and a general wash up and then we loaded up the vans and headed back...... most of us fell asleep instantly.  Ate our packed lunches, saw a movie and made great time back into town...!  I think they were all fairly reluctant to be leaving each other.... :) 
Thanks all.
Cheers
Shonali
This is what Priya had to say about the trip to Masinagudi